Wet June 2010: Southern Minnesota
Overview: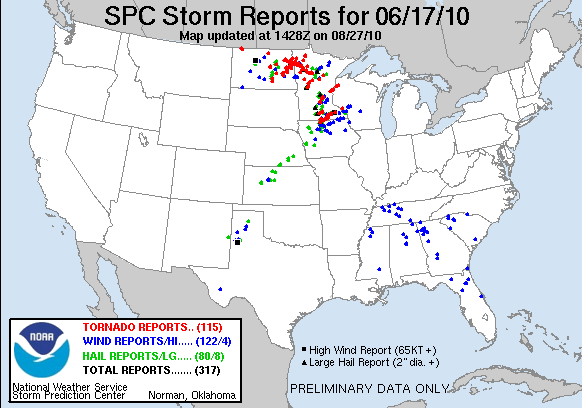 June 2010 was a wet and stormy month across most of the southern one-half of Minnesota. The month brought frequent, and often heavy, rainfall to many southern Minnesota counties. Large-scale outbreaks of severe weather occurred on June 17 (map at right), June 25, and June 26. Tornadoes, hail, damaging winds, and flooding rains were reported in many communities on these days.
Rainfall totals through June 28 topped six inches in most communities south of a line from Canby to Moose Lake (map below). June rainfall exceeded eight inches in some counties. In portions of Winona and Houston counties, preliminary June totals indicate more than ten inches of rain.
June is historically Minnesota's wettest month. June rainfall in southern Minnesota surpassed historical averages by at least two inches (map below). In a few counties, the monthly rainfall totals essentially doubled the historical average of four inches. Comparing June 1 through June 28 rainfall totals with the same period from previous years, shows that June 2010 precipitation ranked above the 90th percentile over much of the southern one-third of Minnesota, and ranked above the 95th percentile in many locales.
In addition to large totals, June 2010 rainfall was also unusually frequent in southern Minnesota. For example, the Rochester Airport reported 20 days with measureable precipitation. This is the greatest number of June days with measureable rainfall in Rochester's historical record. The Twin Cities International Airport reported 16 days of measureable rain during June. This ties 2010 for ninth place for most number of measurably rainy June days in the 140-year record.
Preliminary June 2010 rainfall precipitation maps: